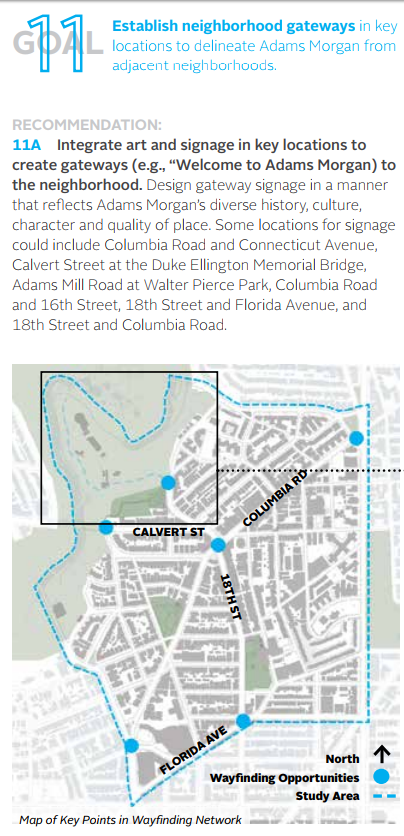 AMVF Goal 11: Establish neighborhood gateways in key locations to delineate Adams Morgan from adjacent neighborhoods.
Last week, I joined community leaders, design consultants, and the leaders of the Adams Morgan Partnership business improvement district to kick off the Gateway Beautification Project in Adams Morgan.
After an initial round of introductions among all participants, we dove into the agenda for the meeting which included a projected presentation by the design team: Studio 39, Prologue DC and Charles Bergen Studios.
Joseph Plumpe's presentation recapped the status of the Process and Site Overview with a focus on landscaping and lighting for a unified neighborhood aesthetic. Points were raised by the Design Advisory Committee about keeping the gateway designs interesting and unique per installation, but also unified by treatment of materials and colors.
Charles Bergen's presentation explored the varieties of public arts grants available to fund the project, but the Advisory Committee also raised points about institutional and corporate support for the project to ensure full execution within a 5-year timeline.
As part of the Design Advisory Committee, my emphasis for consultation of the Adams Morgan Vision Framework was supported with the attendance of Lamont Cobb from the District of Columbia Office of Planning, who brought a printed copy of the Vision Framework plan that enabled us to pass along ideas and strategies straight from the pages of the plan.
Three additional meetings will be scheduled between November of 2017 and February of 2018, including a Neighborhood Walk-through. My hope is that my earlier work this summer to document our neighborhood's triangle parks will inform some of the sites identified in the Gateway Beautification Project.
It will also be quite fulfilling to have participated in a community engagement process that results in the revitalization of key public spaces in our neighborhood, with the guidance and leadership of our Adams Morgan Partnership Business Improvement District leaders and other engaged voices in our community.